Rezidence Spojovací
CZECH DEVELOPMENT FUND SICAV, A.S.
Market value of realised development projects
Comfortable life and good investment
Location: Praha 9 – Vysočany
Rezidence Spojovací is a five-floor apartment building with a modern functional appearance in Prague 9 – Vysočany.
It offers 40 apartments, with balconies or terraces, comprising 1+kk (studio apartment) up to large 3+kk (three rooms and kitchen) residential layouts.
The apartments further offer cellars and sufficient parking spaces on the underground floors of the project. The project is suitable for families with children looking for a calm refuge, as well as for investors as a safe growth opportunity.
Within walking distance there is a kindergarten, a prestigious gymnasium, Harfa shopping centre, Lidl supermarket, Jysk, Gong Theatre, or O2 Arena.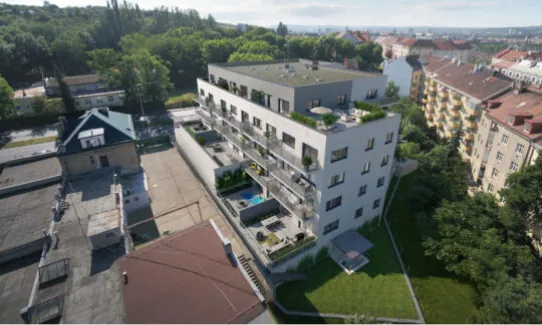 Hlavní informace
Project type: apartment building
Developer: DMG Stav, a.s.
Number of apartments: 40
Parking: underground
Implementation deadline: 3/2021 – 6/2023
Market value of the project: CZK 315 million
Bank: Raiffeisenbank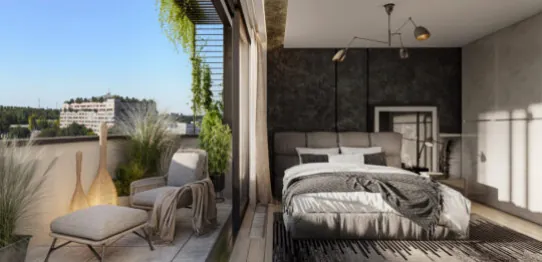 Location and transport
The area of today's Prague 9 belongs to the wider centre of Prague. It was originally built in the peaceful valley of Rokytka, a small river that's been keeping the locals company to this day. Similarly, like Smíchov, it went through an industrial phase in the past. These days, however, it is undergoing an ongoing reclamation, characterised by modernisation, renovation and dynamic construction. For example, the multifunctional office district of high-rise buildings is proof of this.
The project benefits from good public transport accessibility and the great advantage of the location of Rezidence Spojovací is that it is located in the immediate vicinity of the metro station of line B – Českomoravská, the bus stop Novovysočanská, and above all, just a few steps from the tram stop and the railway station Nádraží Libeň.
Thanks to this, unlike the vast majority of other new development projects being built in the wider centre of Prague, it is possible to get to the centre of the capital quickly and comfortably. You can also reach the surrounding towns (Brandýs nad Labem, Český Brod…) by train, which is a handy solution for weekend family trips out of Prague to see the nature.